SpriteMancer
SpriteMancer v0.1.1.0 Released!
---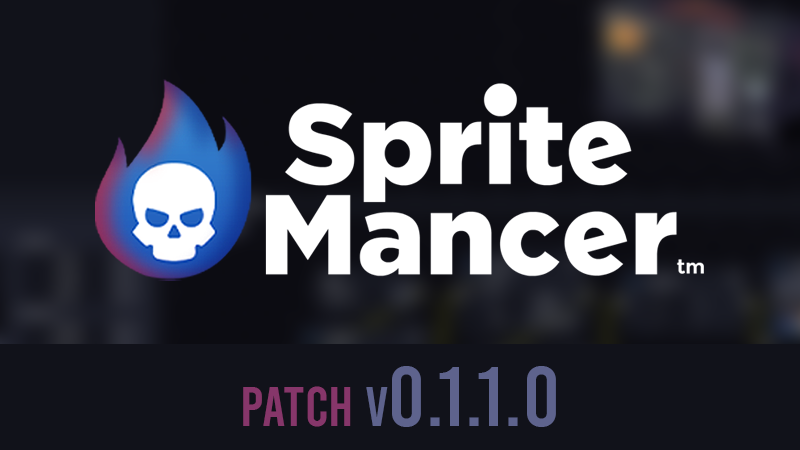 GUI Scaling has been added. This is a work in progress feature that will be improved in the next updates.
Images can now be animated by slicing a spritesheet or loading a GIF.
GIF file support for images.
25 examples have been added.
Added 'YellowAfterLife' to credits for GMLive and GIF support.
Layer preview can now be seen in the layer section.
Added 'Input' node. This allows having multiple inputs in the node graph.
Added 'Math' nodes: Add, Subtract, Multiply, Divide and Value.
Added 'Curve' node.
Added 'Gaussian Blur' node.
Added 'Radial Blur' node.
Added 'Motion Blur' node.
Added 10 'Ring' particle images.
'Shatter' preset has been added to Image element.
Added 'Show welcome screen on start' to preferences menu.
Added 'Show node values' to preferences menu.
Layer coordinates are now shown in the inspector.
Fluid material scale can now be locked in pairs.
Easing node now has an input.
Node output value is now shown in the node graph.
Nodes now have a context menu when right clicked.
Nodes are now properly depth sorted.
Node 'Search Node' input is now focused when first open.
Node sizes have been readjusted.
Removed 'Node Systems' System.
Japanese localization has been improved by Discord member: hebekeg
Chinsese (Simplified) localization has been added by Discord member: UnluckyNinja
'Break' FX should now properly recognize image offsets.
'Smear' FX should now work properly with sliced images.
Fixed an error that made images not snap to coordinates correctly.
Fixed an error that made 'Break' FX crash with small canvases.
Fixed an error that allowed panels to be resized when a modal was open.
'Center Origin' button no longer crashes the app when no images are loaded.
Added a fail safe that should prevent the windows going out of bounds.
Files
SpriteMancer_Release_0110_Full.zip
161 MB
62 days ago
SpriteMancer_Release_0110_Demo.zip
161 MB
62 days ago